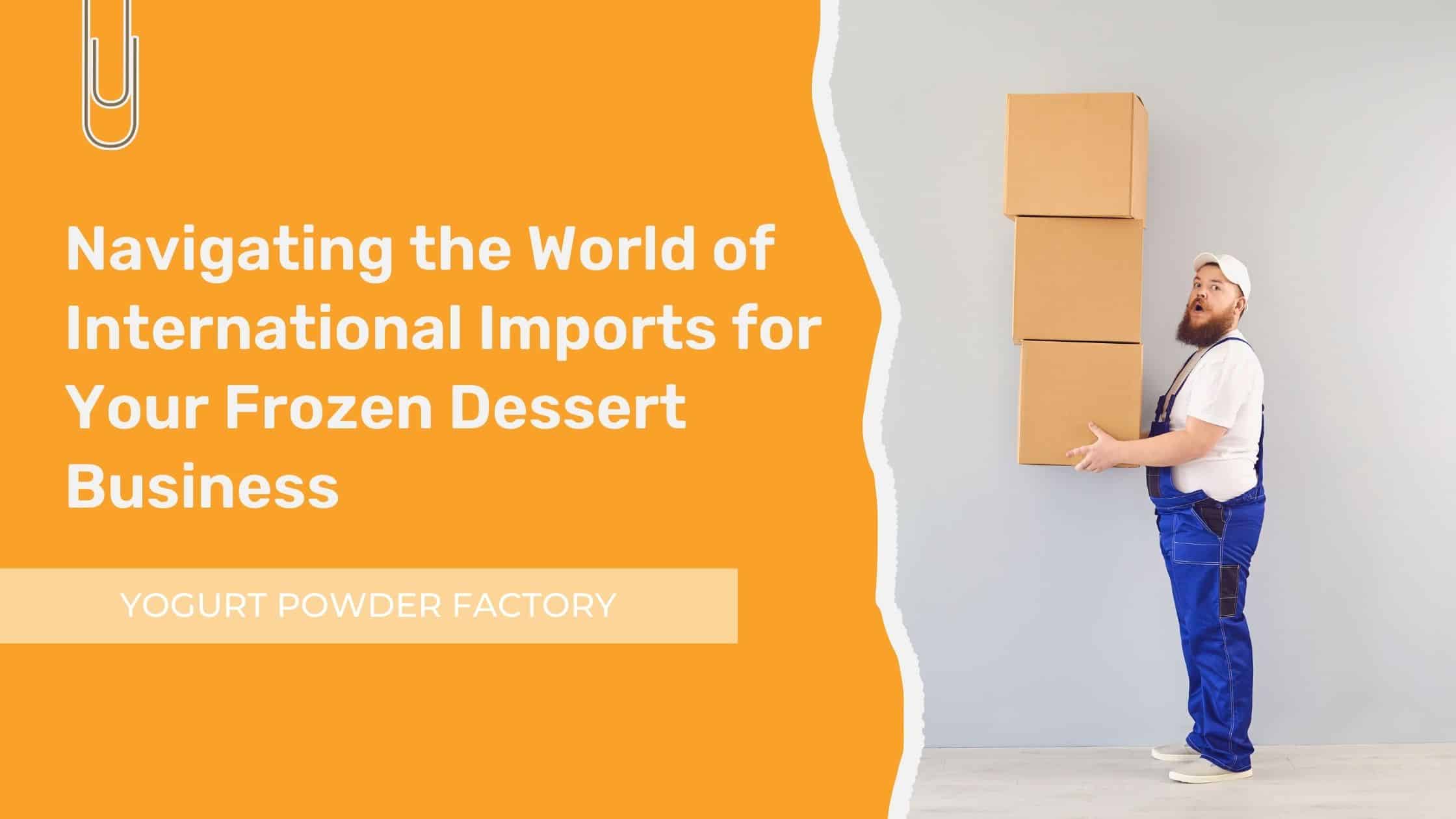 Businesses frequently go outside national lines to diversify their product offerings in today's worldwide market. However, it's imperative to comprehend a few fundamental terminologies and concepts before you go into the world of international trading.
We will clarify INCOTERMS, HS CODES, FCL vs. LCL, and the function of freight forwarders in your importing journey in this post.
Clarifying Responsibilities (INCOTERMS)
International Commercial Terms, or INCOTERMS, are a set of uniform guidelines that specify the obligations of buyers and sellers in global trade. It's important to choose the correct INCOTERM when importing frozen yogurt powder mix or boba tea mix.
If you select "CIF" (Cost, Insurance, and Freight), for instance, the seller will be in charge of paying for freight, insurance, and delivery to the port of destination. However, if you choose "EXW" (Ex Works), you will be in charge of every detail starting when the goods depart the seller's premises. Understanding INCOTERMS makes it clear who is responsible for what and when, resulting in a more efficient importation process.
Take a look at a hypothetical situation to demonstrate the significance of INCOTERMS. Consider importing frozen yogurt powder mix from a vendor in a different nation. You choose to employ the INCOTERM "DAP" (Delivered at Place). The seller must transport the items to the designated address under DAP, but after that, you, the buyer, are responsible for all risks and expenses.
Now, it's your job to file a claim with the shipping company or insurer if the frozen yogurt powder mix is delivered damaged as a result of improper handling during shipment. Making informed choices about who assumes the risks and costs at each level of the shipping process is made easier with an understanding of INCOTERMS.
Cracking the Classification Code (HS CODES)
Harmonized System Codes, or HS CODES, are number labels applied to goods to categorize them for customs purposes. The proper HS CODE for your frozen dessert business guarantees that your frozen yogurt powder mix and boba tea mix are properly categorized, affecting import fees and taxes.
It may be challenging to use the HS CODE system, yet precise documentation and customs clearance depend on it. Due to differences in ingredients and composition, frozen yogurt powder mix and boba tea mix, for example, may have distinct codes. You can get assistance choosing the proper HS CODEs for your products from a freight forwarder or customs specialist.
The compliance with customs is crucially dependent on HS CODES. These codes provide a uniform method for categorizing goods on a global scale, which helps customs officials calculate import taxes and duties with greater accuracy. By selecting the appropriate HS CODEs, you can avoid unintentionally overpaying or underpaying for your imports in your frozen dessert business.
Utilizing online resources or by talking with customs specialists to dictate the proper HS CODE for products like frozen yogurt powder mix and boba tea mix can help you to know better. Keep in mind that the classification may vary depending on the local laws and product content in each nation. However, it's very important to keep up with any HS CODE classification changes that can cause any impact on your imports.
FCL vs. LCL: Container Alternatives
You'll frequently hear the words FCL (Full Container Load) and LCL (Less than Container Load) while importing ingredients for frozen desserts. These describe how much space your merchandise will take up in a shipping container.
When importing bigger amounts of boba tea mix or frozen yogurt powder mix, FCL is the best option. Renting the complete container will prevent your goods from being combined with those of others. By doing this, the chance of contamination or transit-related damage is reduced.
LCL, on the other hand, is appropriate for smaller shipments in which you share a container with products from other companies. LCL can be more affordable but less secure, so it's important to pack your products carefully to avoid damage.
Depending on the volume of your imports and the make-up of your items, you should decide between FCL and LCL. Let's look more closely at how these container options can affect your shipping for your frozen dessert business:
FCL (Full Container Load): Control and security are provided by this choice. When you rent a whole container, you can fill it only with boba tea and frozen yogurt powder. It lessens the chance that other cargo in shared containers will contaminate or damage the cargo. When importing bigger amounts of frozen dessert ingredients, FCL is economical.
LCL stands for less than container load. LCL would be more appropriate if your company frequently imports less frozen yogurt powder mix and boba tea mix. In this situation, your products are packed in a container along with goods from other companies. While LCL is less expensive for smaller shipments, careful packaging and labeling are crucial to avoid possible mix-ups or damage during transit.
Freight forwarders, the importation specialists:
As your frozen dessert company looks into international imports, working with a freight forwarder is more and more advantageous. These experts are invaluable partners in your importation journey because of their in-depth understanding of the logistics involved in international shipping.
You can benefit from a freight forwarder by:
– Pick the shipping routes that are the most economical and effective.
– Manage intricate customs documentation, such as HS CODE coding.
– Work with shipping companies and carriers to negotiate the most affordable prices.
– Assure adherence to regional laws and import specifications in diverse nations.
– Real-time tracking of your shipments gives you confidence and transparency.
Freight forwarders can help you streamline your importing process with their experience, saving you time and lowering the possibility of expensive mistakes.
Expanding Your Options for Your Frozen Dessert Business
A smart move in the world of the frozen dessert industry is to investigate foreign imports. Your products can stand out from the competition with the appeal of exotic flavors and distinctive ingredients like Yogurt Powder Factory's frozen yogurt powder mixes, vegan soft serve mixes, and boba tea mixes. But in order to successfully import goods from abroad, one must have a firm grasp of concepts like INCOTERMS, HS CODES, and FCL vs. LCL, as well as the important help of freight forwarders.
By mastering these ideas and collaborating closely with knowledgeable partners, your company can confidently negotiate the challenges of international trade. Your efforts to expand your selection of frozen treats for your clients will advance with each successful import, guaranteeing that your frozen yogurt, soft serve, and boba tea concoctions continue to be a delectable sensation in the sweets industry.
Learn more about Yogurt Powder Factory's Wholesale Program and Shipping Terms